NOTES OF LOVE & DESPAIR (Release Date: 2022)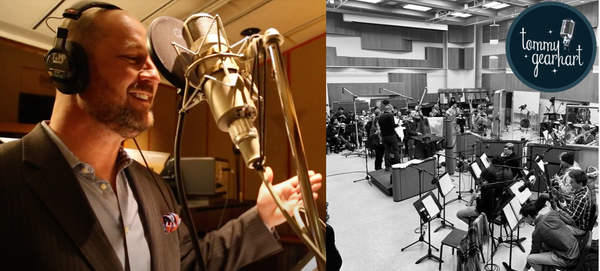 PRE-ORDER VINYL COPY  -- $45 (includes gratis digital copy & shipping) 
Tommy Gearhart with Symphony Orchestra 
Notes of Love & Despair is a beautifully mature recording project balanced like a two-act play (45-minutes). In the first  act (Side A) expresses the joyous journey of falling in love and being in love. While the second act (Side B) tells of falling out of love with the longing for love that was lost and eventually moving on ... completing the cycle.
Incredibly gorgeous ballads from the Great American Songbook are on display in which sensitive orchestral accompaniment serves Gearhart's version of each song's story. Gearhart's unique tone and phrasing work in tandem with the 50-piece orchestra to take the listener on a journey. This recording project was co-produced by Tommy Gearhart and his drummer/musical director, Chase Ellison. Downbeat award-winner George Darrah was the arranger/conductor for the occasion. 
Additionally, this project is of paramount importance to Tommy because of his passion for improving mental health awareness and support through music.
TRACKS:
Skylark - My Foolish Heart - Time After Time - Never Let Me Go - Body & Soul - You've Changed - Goin' To Chicago - But Not For Me - You Don't Know What Love Is - Lush Life - *Angel Eyes - * 'Round Midnight
*BONUS DIGITAL TRACKS 
I FALL IN LOVE TOO EASILY (Release Date: 2013)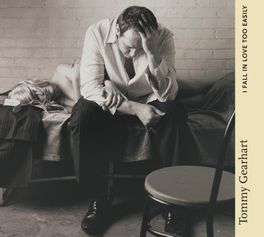 This record has some sophisticated and beautiful arrangements of standards, groovin' original and obscure songs you're likely to have never heard, yet not soon forget, and a few Great American Songbook classics that will give a little for that familiar nostalgic longing. It's a well balanced, fully accessible record that has a little for every level of listener.
Tommy really steps it up vocally. The command of his dynamic vocal range, coupled with a very complex and unique tone, assures him a spot amongst the higher echelon of male jazz vocalists. There are no gimmicks or showing out... it's just really good.
The band includes Grammy winning jazz master trumpeter, Bobby Shew (Sinatra, Sarah Vaughan, and Buddy Rich fame) and Count Basie Orchestra's lead tenor saxman, Doug Lawrence (Ray Charles, Tony Bennett, and Aretha Franklin fame).
AUTUMN SERENADE (Release Date: 2007)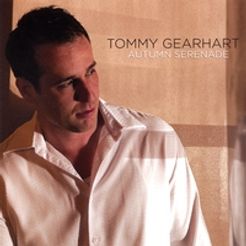 Tommy Gearhart - vocals, Paul Fowler - piano/fender rhodes, Dan Spanogle - bass, David Edwards - drums
"A strong blast of fresh air has been blown into these jazz chestnuts and evergreens with beautifully unique and interesting arrangements.  Tommy sounds fantastic!"        D. Milne - jazz critic
"Frank Sinatra meets Brad Mehldau in a jazz haus.  Are you kidding?!  I've been looking for a modern crooner who does his own thing.  Great ideas ... great phrasing ... great CD."      Sven Ober - Germany
"His voice is so very cool and smooth! I love this CD!"   B. Theilman Cincinnatti, OH - CDbaby
"This CD was a refreshing exploration for the jazz expert interested in something new and energetic, and the person just finding the world of jazz, alike.  The CD reminds the listener that he's not wandering around in a nostalgic time warp, but rather brings us all back to a pure, clean, comforting genre of music.  From a hard rat-a-tat edge to a warm, mellow feel, Mr. Gearhart entertains while paying homage to greats that came before him with this wonderful compilation of songs.The ease with which he blithely skips through genres and blurs them without strain recalls the chameleon sensibility of artists of a different era.If his style is an offshoot of the Sinatra mode of jazz singing his voice is strong and confident, his phrasing innately rhythmic.  Playful, charming and a good storyteller, Gearhart makes the listener feel as though he is experiencing a live jazz/blues masterful performance with this CD release."                  T. Stevens Denver, CO - CDbaby